Welcome to Noibu!
To help you get familiar with the Noibu console, let's do a quick flyover so you can see how all the elements of Noibu work together to help you identify, investigate, and resolve revenue-impacting issues. Keep in mind that this tour is very high-level. You should click the links in each section to learn more about each feature.
Dashboard
The Dashboard is Noibu's landing page, and gives you a high-level look at issue impact across your eCommerce site. Here you'll find a summary of revenue loss totals, impactful issues, compromised funnel steps, and team effort.
[dashboard-overview]
Issue Trends
In Issue Trends, you can plot one or more issues on a chart to examine revenue impact over time. By default, these charts plot trends over the past 90 days, but you can adjust the timeframe to as little as one day or as much as a full year. Each point on the chart represents a Session Bucketing Interval, which may be an hour, day, or week depending on the overall timeframe.
[issue-trends-overview]
Issues
Noibu's primary purpose is issue tracking. When an issue is detected on your eCommerce website, Noibu collects as much data as possible, assigns the issue a descriptive title and Error Signature, and documents the issue on the Issues page. Here, you have access to a high-level look at overall issue impact on your eCommerce site, as well as the tools you need to prioritize, investigate, and resolve the issues.
[issues-priority-view]
Issue Details
Select an issue from the Issues page to open the Issue Details page. Here, you'll find a breakdown of the issue and a toolbox of resources developers can use to investigate and resolve the issue.
[issue-overview]
Sessions
Session videos give you a firsthand look into a customer's journey through your online store. By reviewing a session video, you can see everything your customer did, where they encountered errors, and which errors may have prevented them from completing their purchase.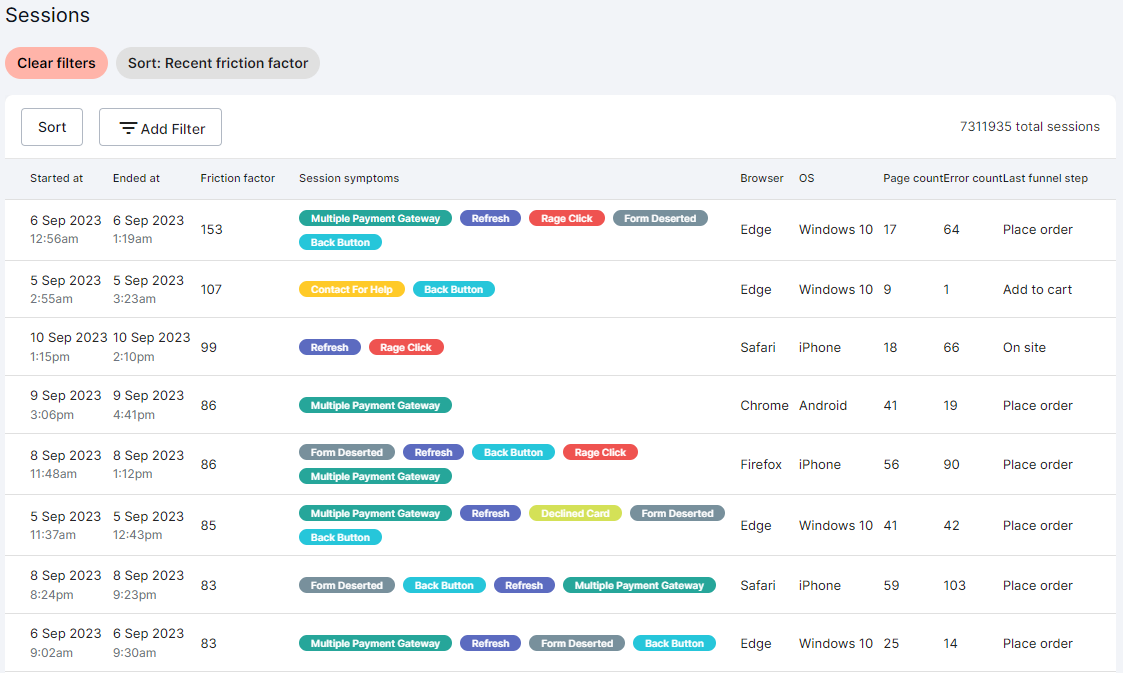 Sessions tracks each unique shopper session on your eCommerce site. By default, sessions are organized by Recent Friction Factor. This sorts the list by Friction Factor while prioritizing sessions from the last seven days.
Session Playback
Opening a session video brings you to the Session Playback tab. The Session Playback is made up of two parts: the session player, which recreates the shopper's journey via video; and the session timeline, which documents each event throughout the session recording, including error encounters, web vital scores, page lifecycle events, user clicks, and HTTP events.
[session-view-overview]
Settings
In Noibu, settings are split between three sub-sections: Company, Domains, and Teammates.
The Company page is a hub for your company's high-level information, including billing details.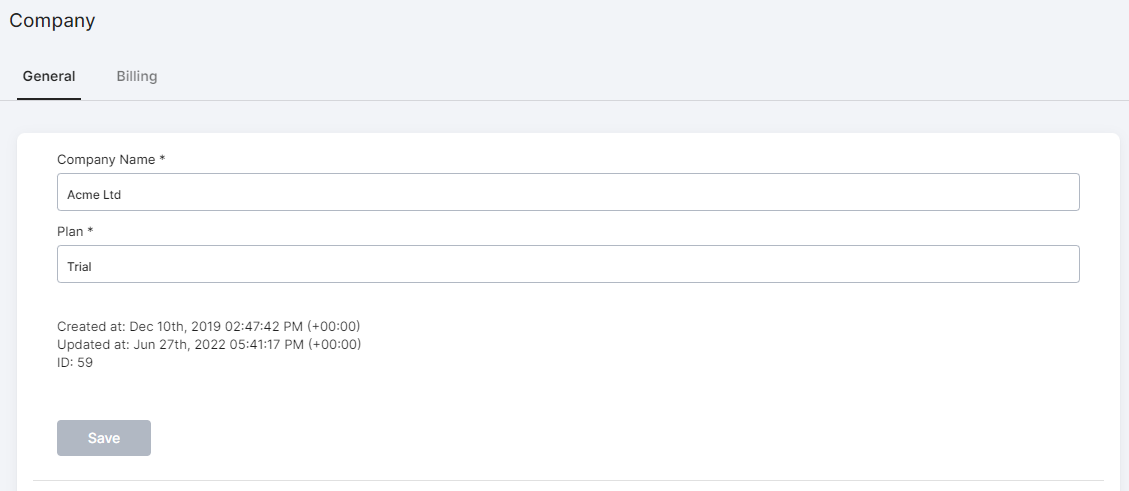 Many companies have online stores on multiple sites, and you can configure your Noibu platform to track errors across several eCommerce domains. The Domains page tracks every domain associated to your Noibu account.
[domains-overview]
Through the Teammates page, you can add or remove user accounts as necessary. Every company operates differently, and the type of users with access to Noibu varies with team structure and company size.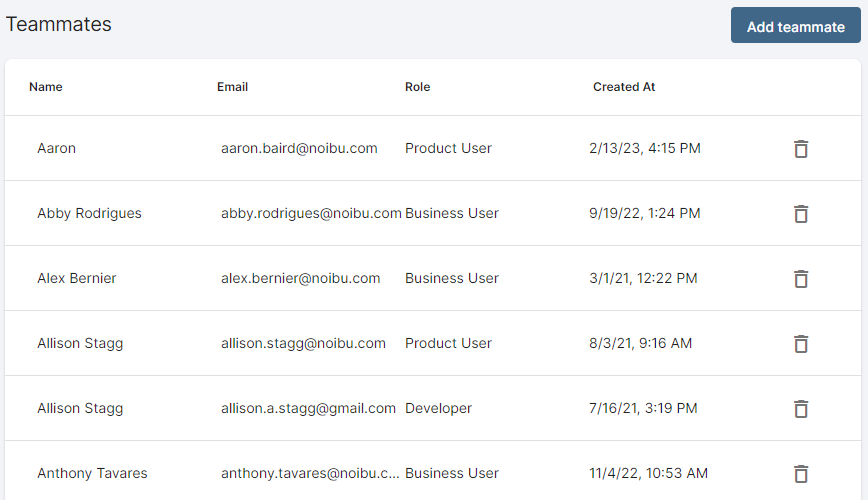 ---
Now that you're familiar with Noibu's basic anatomy, let's shift focus to who uses Noibu. Visit our Working with Noibu section to learn more about how several distinct user types can benefit from the Noibu toolbox.