To put it plain and simple, Noibu detects 2 types of errors - HTTP Errors, and Javascript errors. Not only do we detect those errors, we also tell you exactly how this error is affecting your customers, and how many transactions we are losing due to these errors.
Well, good thing for you, we also tell you how to fix these errors. Don't worry, you aren't going to bleed out slowly, we got you!
TLDR Version (It's okay, we aren't offended)
Understand where on your website this error is happening i.e Funnel Impact, Statistics

Use the User Session Timeline in a sample

Find the timestamp of when the error happens in the timeline, document it.

Go access your server logs on in your store (ex: Magento Server Logs)

Compare your Noibu timestamp to your server log for more details

Configure server to fix potential issue
In this article we are going to focus on HTTP Server Errors, and how to use the platform to investigate them, and also solve them. This guide focuses on how to identify, diagnose and resolve all the HTTP errors you see in your funnel. Even though these types of errors are client-related, it is often useful to know which error code a user is encountering to determine if the potential issue can be fixed by server configuration.
Step 1: Investigate the error

Click through to get the error details of the HTTP error you are looking at. In this great example we are looking at an HTTP Error with a code 400.
→ Is this error still happening? How many times a day?


→ What is the financial Impact of this error? Is there a high Annualized Revenue Loss?
Step 2: When is this error happening?
→ Check the Reproduction Steps & Top Urls to understand where the error is happening, and what customers are clicking on for it to happen

Step 3: Use the Timeline$
Find a session that shows the error, and go to make sure you Show HTTP Events & All User Events

This will show you all the requests the customer made during their time and when the error happened.
Step 4: Record the time stamp of when the HTTP Error happened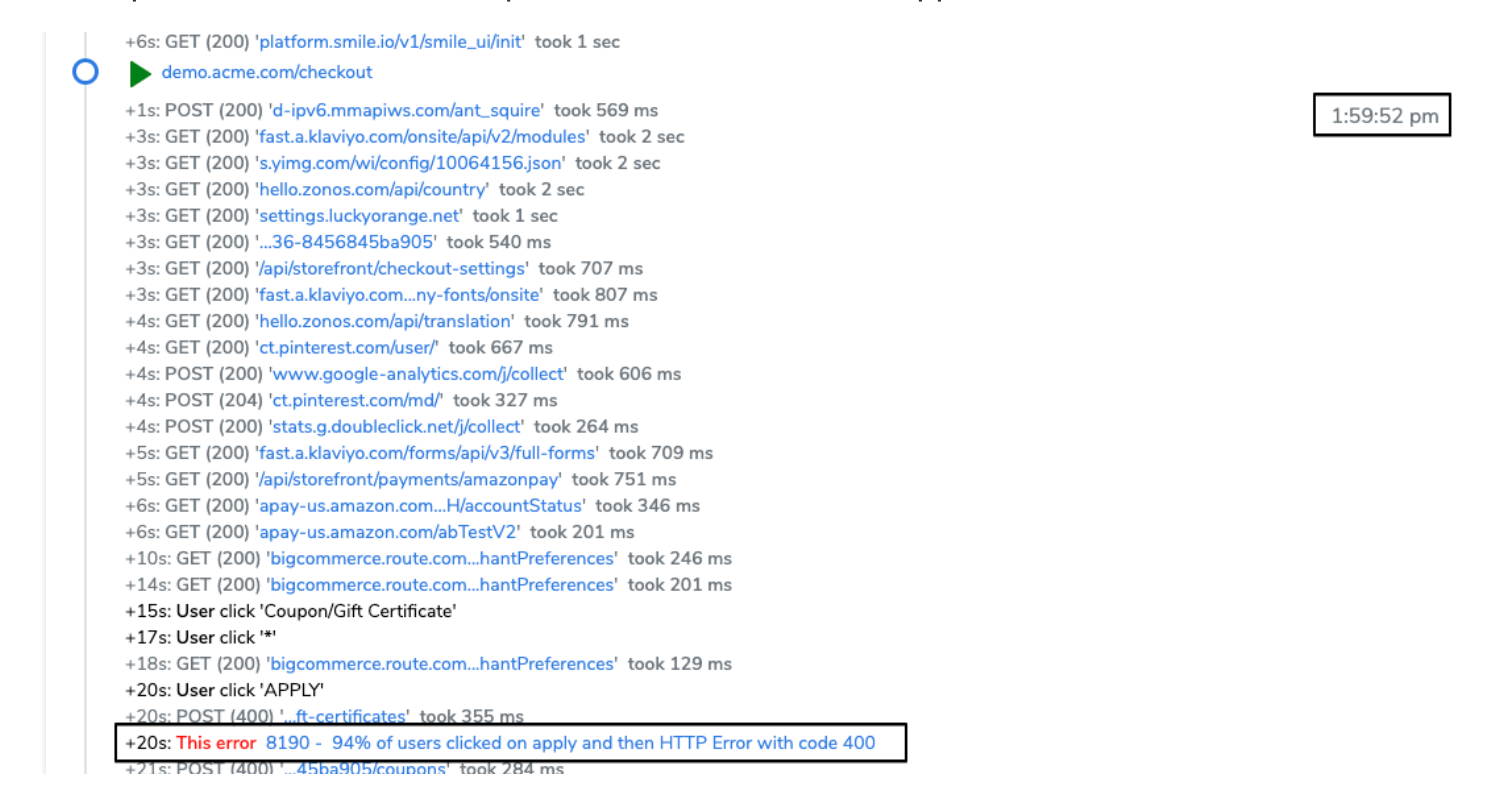 Step 5: Access your store server logs, and compare the timestamps, begin resolving the bug
At this point what you need to do is compare the Noibu timestamps with those on your server logs, to find exactly what went wrong. From here you can make the changes needed to your server, to stop this bug from happening to your customers.
By using these steps, you should have a good basis for troubleshooting HTTP errors with your store's server logs or applications. If you need any help, click that green button! We are always here to help.