Noibu's platform is useful for individuals in many parts of your organization. Developers can use it to solve errors, ecommerce managers can use it to help them oversee the look and feel of the site, marketing managers can use it to understand the customer journey better and look for ways to improve customer experience.
Nevertheless, which users are added to your platform is organization specific. It is important that whoever is in charge of prioritizing errors and sending them to developers, has access. Oftentimes, these people are either project managers or product users. The stronger your workflow is with each user playing a particular role, the more likely you are to solve the errors.
Luckily, Noibu has no limit on the number of users on the dashboard. As well, there is NO additional cost per user. Therefore, all individuals at your organization who would find use in the service are able to use it.
To add new users to Noibu, you first must click on Teammates under the "Settings" Tab. This will bring you to what current teammates are using Noibu. In the top right corner, you will be able to add another team member by clicking on "Add New Teammate". From there, you can input their name, their email address and their role at your company.
Below are images of the step by step process: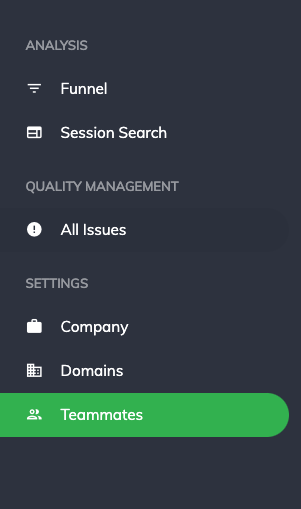 Similarly, to remove a Teammate, click on Teammates under the
"Settings" Tab and on the right of the screen beside each contact, click on the icon and press "Destroy".
Below are images of the step by step process: