Introduction
In order to accommodate our user's workflows, we've built an integration to Jira. This integration will enable you to sync Noibu issues to your Jira, syncing an issue will result in an issue being created in Jira with all the necessary information for your developers to solve the issues.
Once the issue is closed in Jira, the issue will also be closed in Noibu, reopening an issue in Jira will also cause the issue to be reopened in Noibu.
These steps can be followed by an existing Jira User or a new one. If there are security concerns, creating a new user can alleviate those concerns with the following steps:
1. Create a new user and permission it only for the specific project
2. Then use that to create an API token here: https://id.atlassian.com/manage-profile/security/api-tokens
3. Then configure with Noibu, following the steps below
Requirements
Be a project Admin in Jira
Have multi-factor authentication
Integration
To integrate your Jira with Noibu you will need three things.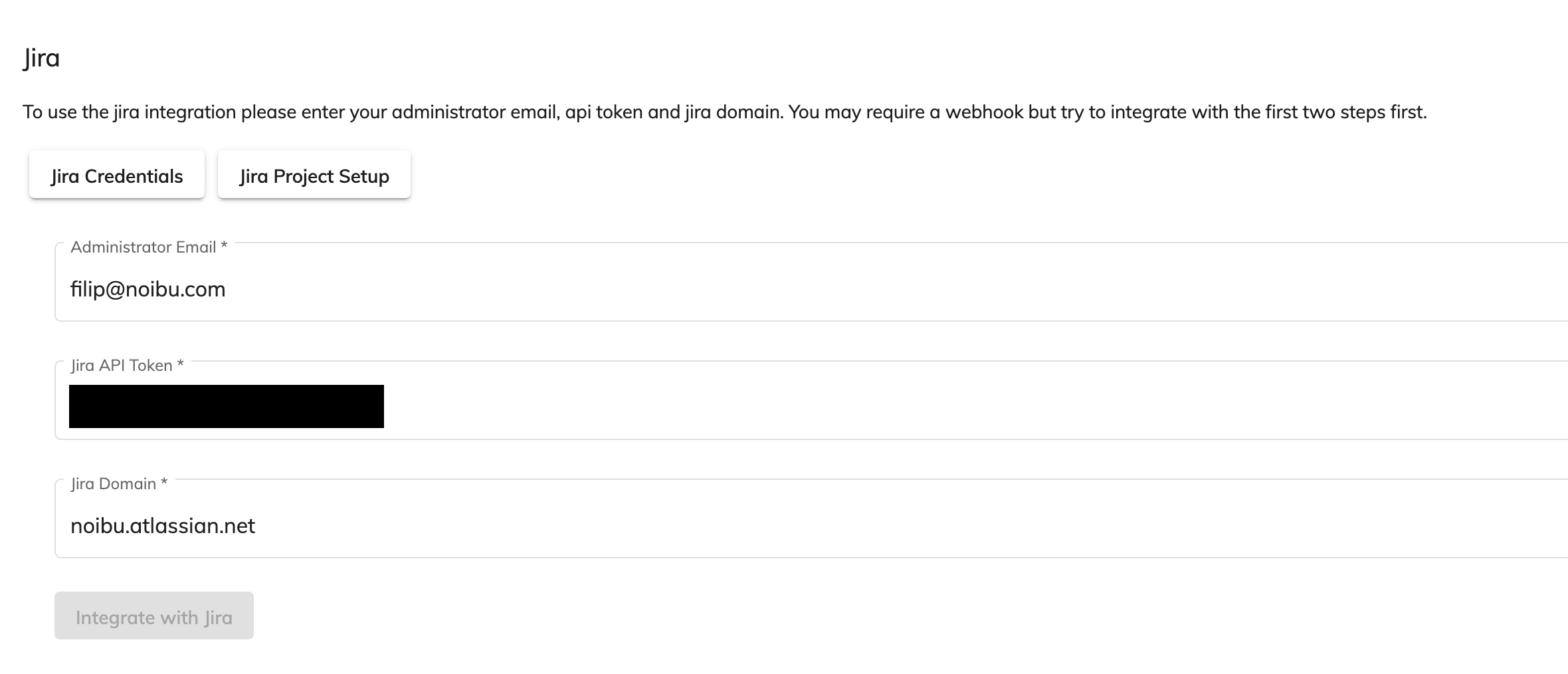 Jira Administrator Email
We need the administrator email in order for our system to create a webhook in your Jira system. This webhook will only listen to two events, issue_updated and issue_deleted. We need to listen to those events in order to update the status of the issue on the Noibu's side.
Jira Administrator API Token
We need the administrator API token in order to authenticate our requests to your Jira.
To get the Jira API token:
1. Click your Profile icon
2. Click on Profile
3. Click on Manage your Account
4. Click on Security
5. Click on Create and manage API tokens
Jira Domain
We need your Jira domain in order to point our requests to that specific URL.
To get the Jira Domain
Copy the hostname of the url once in your Jira account, use picture below as an example.

Setup
Once your account is integrated to Jira you can setup which projects you want Noibu to be able to post Jira issue to. While configuring your projects you will be asked to select an Open state which means which state does Jira consider as Open, your closed state which means which state does Jira consider as closed and finally which issue types you want Noibu to create in that specific project.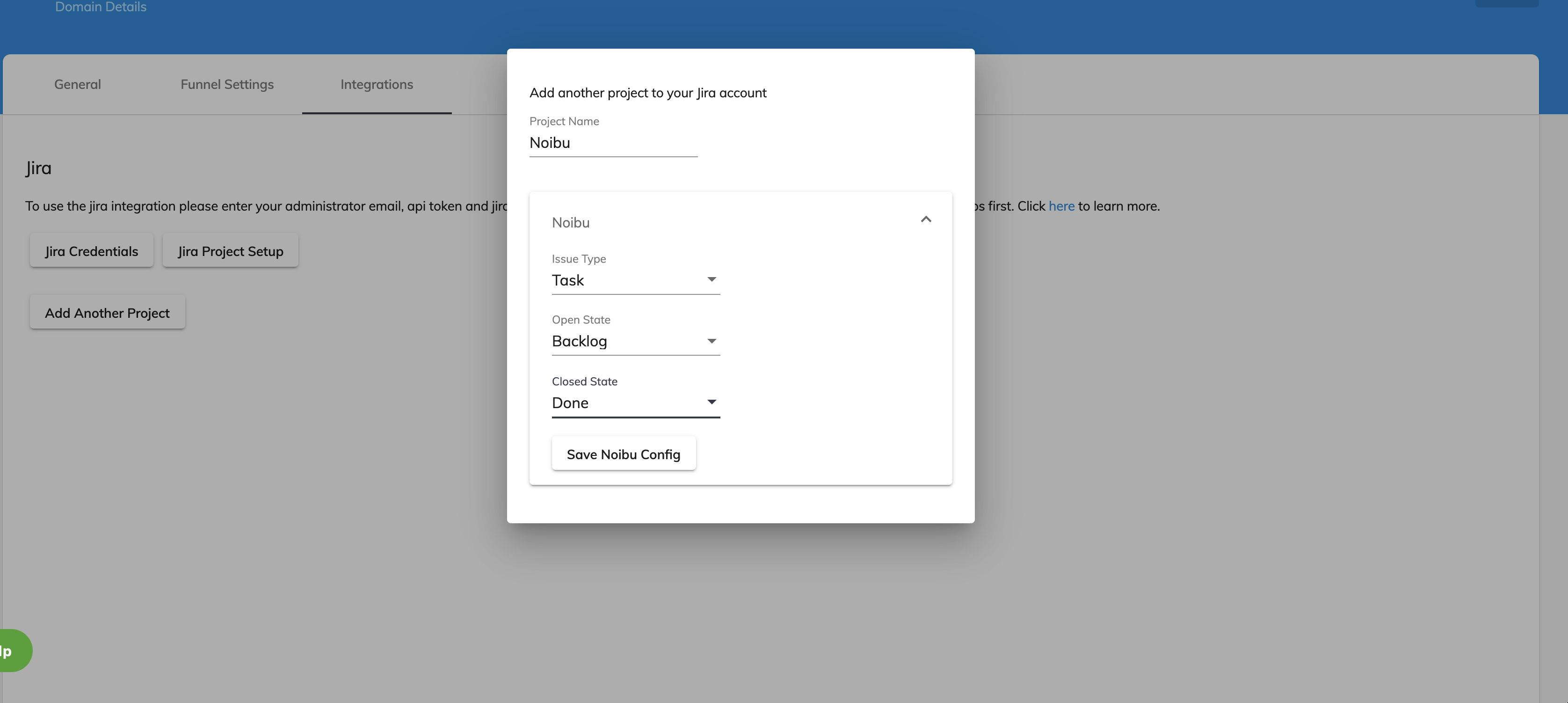 In order to find the Name of the project you want to integrate, you will need to do the following:
1. Go to all projects page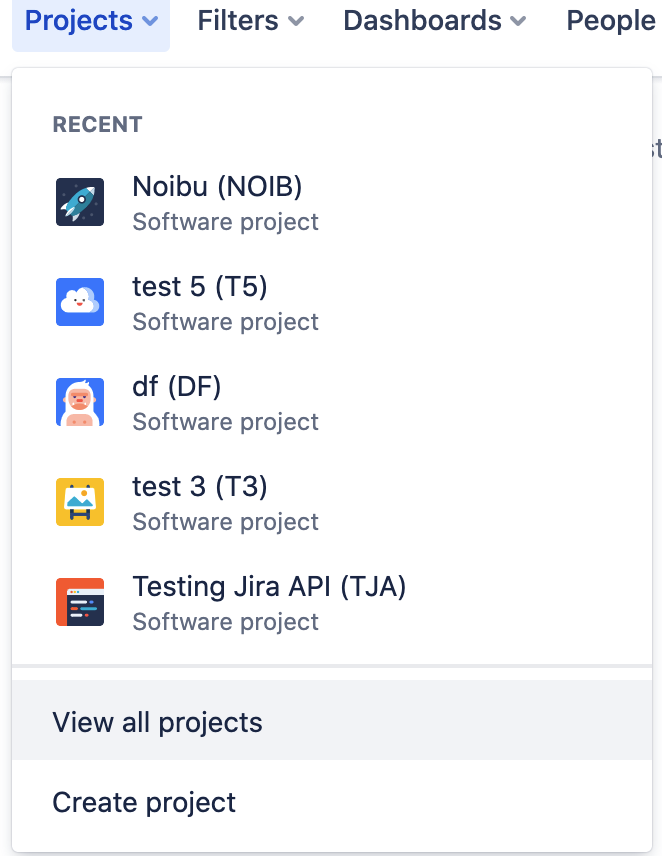 2. All Projects Names will be listed there